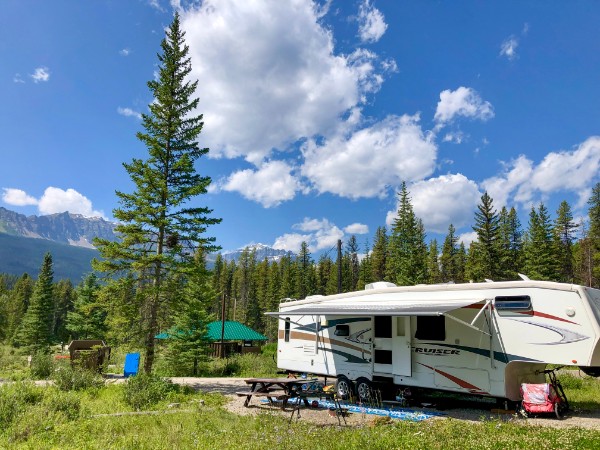 Alberta, with its stunning landscapes that range from vast prairies to towering mountain peaks, offers a plethora of great spots for RV camping. Here are some of the best places to consider:
Banff National Park:

This iconic Canadian national park offers numerous RV-friendly campgrounds like Tunnel Mountain Village, Two Jack Lakeside, and Lake Louise Campground.
You can explore Lake Louise, Moraine Lake, and take the Banff Gondola to the top of Sulphur Mountain for panoramic views.

Jasper National Park:

Whistlers, Wapiti, and Pocahontas are some of the RV-friendly campgrounds in the park.
Attractions include Maligne Lake, Athabasca Falls, and the Columbia Icefield.

Waterton Lakes National Park:

The Townsite Campground in Waterton can accommodate RVs and offers stunning views of the surrounding mountains and lakes.
Must-visit spots include Red Rock Canyon and Cameron Lake.

Dinosaur Provincial Park:

Located near Brooks, this UNESCO World Heritage Site offers RV-friendly camping and a unique landscape filled with badlands and dinosaur fossils.

Elk Island National Park:

Located east of Edmonton, this park offers RV camping and is a great spot for wildlife viewing, especially bison.

Writing-on-Stone Provincial Park / Áísínai'pi National Historic Site:

Another UNESCO World Heritage Site, this park near the Montana border offers RV camping and features fascinating rock art and unique hoodoo formations.

Cypress Hills Interprovincial Park:

Spanning the Alberta-Saskatchewan border, this park is an oasis of forested hills and lakes in the prairies. It offers RV camping and a range of recreational activities.

David Thompson Country:

This region, located between the Icefields Parkway and the Central Alberta Plains, offers several campgrounds suitable for RVs. Crimson Lake Provincial Park and Abraham Lake are among the highlights.

Kananaskis Country:

Less crowded than the national parks, Kananaskis offers stunning mountain scenery and numerous RV-friendly campgrounds, like Boulton Creek and Mount Kidd RV Park.

Lesser Slave Lake Provincial Park:
Located in northern Alberta, this park offers sandy beaches and RV-friendly camping by one of Alberta's largest lakes.
Remember, when RV camping in national or provincial parks, reservations are often recommended, especially during the peak summer season. Make sure to check campground specifications and restrictions in advance, as some sites might have size restrictions or might not offer full hook-ups for RVs. Always follow "Leave No Trace" principles to minimize your impact on these beautiful natural areas.